---
---
A
ac
acrostichal setae (synonym)
Acalyptratae
Acalyptratae is a subsection of Schizophora, commonly referred to as the acalyptrate muscoids (or simply acalpytrates). It is a very large assemblage, exhibiting very diverse habits. The name refers to the lack of calypters in the members of this group of flies.
Links: Diptera classification


acalyptrate
Acalyptratae (synonym)
acalyptrates
Acalyptratae (synonym)
acr
acrostichal setae (synonym)
acrostichal seta
acrostichal setae (synonym)
acrostichal setae
One or more longitudinal rows of smaller to larger setae in the median part of the scutum, the rows being either regular or irregular (with setae more or less scattered).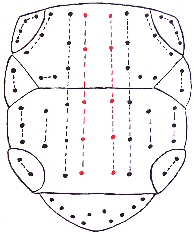 acrostichals
acrostichal setae (synonym)
aculeus
Strongly sclerotized tip of ovipositor in female. In Tephritidae it
includes segment 8, the postgenital segments, and the cerci.
ad
anterodorsal (synonym)
Ad
anterodorsal (synonym)
adventive species
A species that has arrived in the geographical area specified from somewhere else by any means (for instance with cargo). Compare with invasive species
.


allotype
From the ICZN: 'The term "allotype" may be used to indicate a specimen of opposite sex to the holotype
; an "allotype" has no name-bearing function.'
alpha taxonomy
The first stage in taxonomy, viz. the descriptive stage which is concerned with the characterisation and naming of species. An example of a taxonomic exercise at the alpha level is:
Hines, J.S., 1911. New species of Diptera of the genus Erax. - The Ohio Naturalist 11(6): 307-311.
The next two stages in taxonomy are systematising (beta taxonomy) and evolutionary studies (gamma taxonomy).
anal cell
posterior cubital cell (synonym)
anepisternum
Dorsal part of the lateral plate of the thorax that is associated with the second segment that originally formed the thorax.
Image given: http://www.dgrc.k...pleura.gif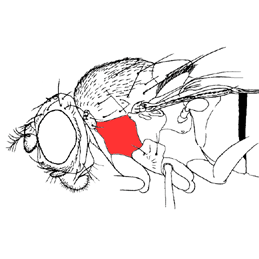 anterior
Located in the direction of the head when considering a position along the longitudinal axis. Even a structure near the apex
of the abdomen has a side that is directed towards the head end and another that is directed towards the apex of the abdomen. Likewise, every structure perpendicular to the longitudinal axis of the body (leg, wing) has a side that is directed towards the head.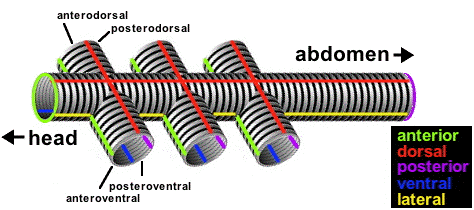 anterior notopleural setae
Large setae placed on the anterior part of the notopleuron
, immediately posterior of the postpronotal lobe
.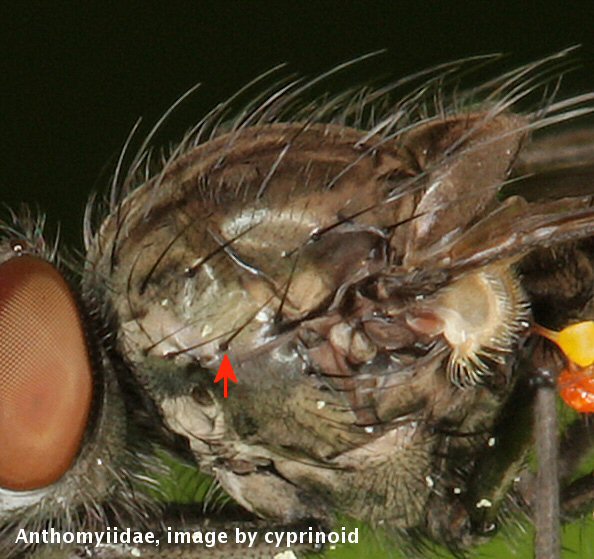 anterodorsal
Located in the plane between anterior
and dorsal
.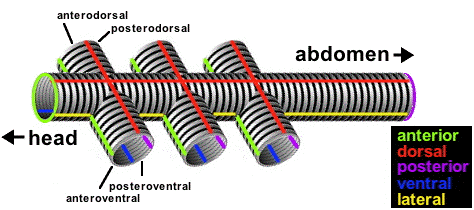 anteroventral
Located in the plane between anterior
and ventral
.