Thread subject: Diptera.info :: Asilidae blue one South of France Marseille
---
Posted by Ber13 on 30-05-2020 09:00
#1
---
I need big help for this one, Thank you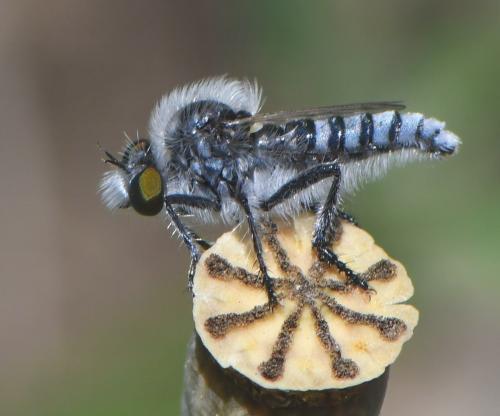 Bernard Ginesy : France : Marseille : 13007 : 22/05/2020
Altitude : 99 m - Taille : 8 mm
Réf. : 258052
Bernard Ginesy : France : Marseille : 13007 : 22/05/2020
Altitude : 99 m - Taille : 8 mm
Réf. : 258050
---
Edited by Ber13 on 30-05-2020 09:05
Posted by Chris Cohen on 30-05-2020 22:51
#2
---
I would guess Holopogon as the hind tibia appears to be thickened apically, but this particular species is also very similar to Eriopogon. I imagine Reinoud will have a better idea.
Great photos by the way!
---
Edited by Chris Cohen on 16-06-2020 22:56
Posted by Ber13 on 31-05-2020 11:13
#3
---
Thank you Chris Cohen, I have see a same one in the same place a week later, very blue...
Posted by evdb on 16-06-2020 22:16
#4
---
Reinoud please ?
Posted by Quaedfliegh on 17-06-2020 00:08
#5
---
It seems to be a real Holopogon one that I've never seen before. In Engel 1930 I find the following description, please nor description : melaleucus Meigen (1820) Syst. Beschr.. 11, 281, 38 (D a s y p o g o n).
Weißwollig
; Thorax weiß, mit schwarzen Streifen; Abdomen schwarz und weiß bandiert; Flügel hell.
Durchaus mit graulich weißer Wolle bekleidet. Untergesicht, Knebelbart und Stirne graulich weiß;
letztere führt eine schwarze Längslinie
(!!!). Thorax weißlich, mit 3 tiefschwarzen Streifen auf dem Rücken; die beiden äußeren vorne sehr verkürzt und mit der mittelsten, die bis zum Halse reicht, zusammengeflossen.
(!!!) Das 1. und 2.
Segment des Abdomens tiefschwarz; das 3. auf der vorderen Hälfte weiß, auf der hinteren schwarz; das 4. ebenso, nur ist das Weiße breiter und nimmt 2/3 ein; die der folgenden Segmente grauweiß
. p schwarz, weißwollig; t3 ein wenig keulenförmig. Schwinger gelb. Flügel hell.
Herr Baumhauer entdeckte diese Art auf dem Gebirgsrücken von Toulon (Meigen).
3 lin. Europa centr
Hope your German is fine :-) Pretty sure this is it
Posted by evdb on 23-06-2020 07:49
#6
---
Many thanks Reinoud and sorry for late answer.
(Deepl is my friend !)
Posted by Ber13 on 23-06-2020 09:31
#7
---
A big thank to you Reinoud, and Eugène also !