Thread subject: Diptera.info :: A Fly in Search of Its Identity
---
Posted by Stephen on 17-09-2005 14:06
#1
---
Or perhaps the fly knows its identity, but alas I don't. Any help with ID would be appreciated. Photographed in West Virginia, USA, on 18 June 2005.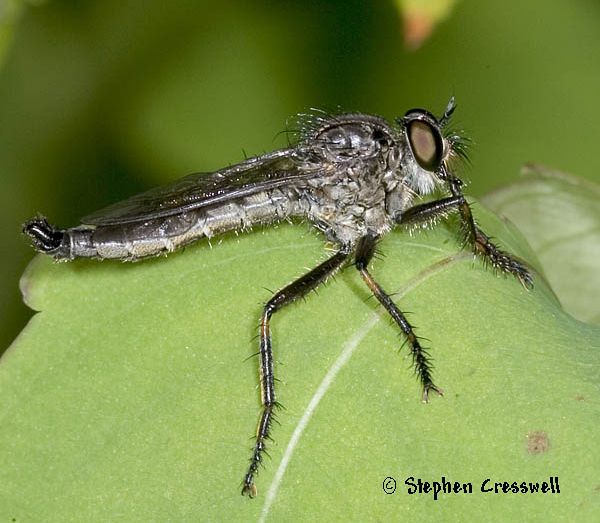 Posted by lynkos on 17-09-2005 14:27
#2
---
Certainly someone more knowledgeable will pass before long and narrow the identification down further, but I can't resist contributing given it's one of the few families I can identify with confidence (I think :o). It should be a predatory Asilidae, great for keeping the mosquitoes down! Sarah
---
Edited by lynkos on 17-09-2005 14:28
Posted by Stephen on 18-09-2005 21:56
#3
---
Thanks, Sarah. Getting it to family is a big stride forward for me. And yes, if anyone can name the genus, please let me know!
Posted by Eric Fisher on 19-05-2006 22:39
#4
---
Hi Stephen. I just joined this group, so now can comment on a couple of your nice photos. This one (from 18-09-2005!) is a Machimus sp. (probably notatus (Wied.)). Martin Hauser, my colleague at CDFA (Calif. Dept. Food & Agric.) has given you my ID on your recent, very nice photo of the Laphystia sp. from New Mexico. That fly seems to possibly be L. lanhami James, which
is an uncommon sp. Do you recall the exact date you saw this fly? Also, where at Mescalero Sands (... if it's a big place)? Thanks, Eric