Thread subject: Diptera.info :: Tephritis species?
---
Posted by Peter Hodge on 05-09-2005 08:31
#1
---
Is anyone able to confirm my provisional determination of this unfamiliar Tephritd? Specimens were swept off Picris echioides (Bristly Ox-tongue) growing in a former arable field near Bognor Regis, West Sussex, UK during August 2005.
Using the key in White (1988) it runs down to Tephritis separata, a species provisionally recorded from the British Isles on the strength of a single specimen found more than 60 years ago at Barton Mills, Suffolk.
S?guy (1934) illustrates the wing patterns of many non-British Tephritis species. My specimens most closely resemble T. conjuncta (Pl.XV, Fig.180), now regarded as a synonym of T. separata (see photo posted below). Note that the basal hyaline area of the 2 large hyaline in cell r1 extends into cell r2+3, without being staggered at vein R2+3. One notable difference is that the tomentum of the scutum in all my specimens is entirely pale grey, and not striped as stated by White (1988).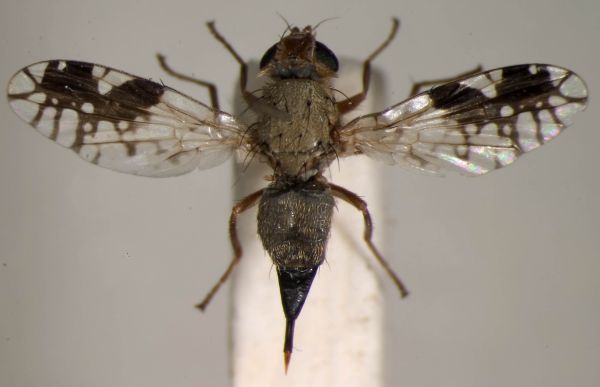 Posted by John Smit on 12-09-2005 10:05
#2
---
Dear Peter,
A very interresting Tephritid!
It sure looks lika
Tephritis separata
, but it is very difficult to separate from
T. divisa
and
T. mutabilis
.
Tephritis separata
is known with certainty from
Picris hieracioides
. So if you have the opportunity, please go and collect the flowerheads and try to rear them. If you want you can sent me a specimen for identification.
Best wishes,
John Smit
Posted by bioimages on 18-09-2016 21:04
#3
---
The above turned out to be Tephritis divisa - new to Britain.
Posted by Nosferatumyia on 18-09-2016 22:36
#4
---
No doubts -- it is.