Thread subject: Diptera.info :: Would these be Culicidae?
---
Posted by lynkos on 16-12-2005 18:00
#1
---
Photographed today in very bad light conditions. The male's bushy antenna makes me think of a Culicidae, but I am very probably way off course! About 3 mm long.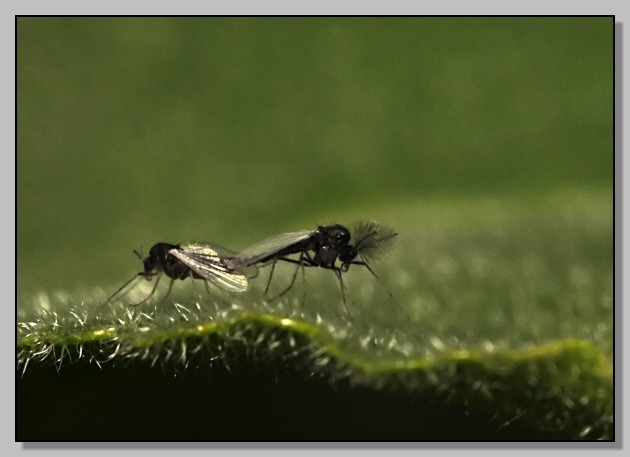 Thanks, Sarah
Posted by lynkos on 16-12-2005 18:29
#2
---
Or perhaps more Chironomidae? Sarah
Posted by Paul Beuk on 16-12-2005 22:34
#3
---
The female does not have the proboscis for sucking blood that you would expect in Culicidae. I think that Chironomidae is an excellent identification. Maybe one of the terrestrial ones? Something like
Smittia
?
Posted by lynkos on 17-12-2005 07:13
#4
---
Thanks for the confirmation Paul. The habitat was an area of wasteland in the middle of the town if that helps! Sarah
Posted by Paul Beuk on 17-12-2005 15:28
#5
---
LoL, no it does not. There are just far too many species for a non-chironomid dipterist like me.
Posted by lynkos on 17-12-2005 18:44
#6
---
Two would be too many for me :(. Thanks Paul, the family is just fine for me, Sarah
Posted by Robert Nash on 19-12-2005 10:02
#7
---
Could be Chironomus anthracinus (described by) Zetterstedt in 1860. I can't remember:( the size though and there are many other black species.. Take a look at the pictures at
http://www.zi.ku.dk/personal/kpbrodersen/Chiropics.htm
I'll ask our resident chironomid expert to take a look. Robert
Posted by Paul Beuk on 19-12-2005 12:55
#8
---
Nice effort and good find of a nice pic, Robert, but
Chironomus
species, I think, are always larger that the stated 3 mm. Despite my limted knowledge, I hope that I would have been able to recognise at least the subfamily Chironominae, and I would not place this one there.